Installing a 1.8lt MX5 differential into a <94 1.6lt
Why?
The 1.6 differential is a known weak spot in the drivetrain. Hard driven cars with no mods can grenade these diffs and cars with power mods will certainly be capable of this! Within 4 weeks of buying my Roadster my first diff went (due to oil starvation from a cracked case) and 6 years on, my 2nd one gave up the ghost and this was accelerating in a straight line. So, to avoid this problem again I decided to upgrade to the 7 inch ring gear which is in the 1.8lt differential. This is a larger unit and is fairly rugged. In the pic below you can see 1.8lt unit on the right.
<![if !vml]>
<![endif]>
It is both longer and wider so you will also have to change the halfshafts and driveshaft to 1.8lt units.
Procedure :
First, buy your parts.
1) 1x 1.8lt differential (this project sourced it from www.traynors.co.uk , good service!)
2) 2x 1.8lt Halfshafts (same source as 1, if you have ABS, make sure they come from an ABS car as it'll need the grooved end for the sensor, see pic)
<![if !vml]>
<![endif]>
3) 1x 1.8lt driveshaft (same source as 1, see pic for differing lengths, lower one is from the 1.8lt car)
<![if !vml]>
<![endif]>
4) 2x hubnuts (Mazda)
5) 2x differential output shaft oil seals (Mazda)
6) 2x halfshafts C-clips (Mazda)
7) Differential oil & Gearbox oil (I went for the Redline brand from www.FlyinMiata.com)
8) Exhaust gasket.
Now, give yourself a couple of days to do this and try and have someone help as it's a pig of a job on your own (believe me… I KNOW!).
1) Night before, WD-40 every nut you think you'll have to remove (bar the driveshaft and halfshaft nuts at the diff as they're not very tight).
2) Put the car in gear and put the handbrake on.
3)Bang out the staking on the hub nuts (the bit that's bent inward to stop it coming off) with a dot punch + hammer. Get a LONG breaker bar to put over your ratchet's handle (29mm socket required BTW!) and pull! If the car moves, get someone to put their foot on the brake. Mine were REALLY tight and needed an airgun used to remove tractor wheels to loosen them (friendly local mechanics come in handy here).
4)Loosen wheel nuts.
5)Put the car on axle stands under the jacking points on the sills.
6)Remove wheels.
7)Remove Brake calipers (a good time to think about changing the pads and greasing the slider pin!) and ABS sensor (if fitted) and tie out of the way with cable ties. Remove hubnuts.
<![if !vml]>
<![endif]>
8)Remove the exhaust's backbox (or from the cat back if you can to give more room).
9)Remove brace between lower wishbones.
10)Unbolt halfshafts from the diff's output hubshaft flanges (12mm)
<![if !vml]>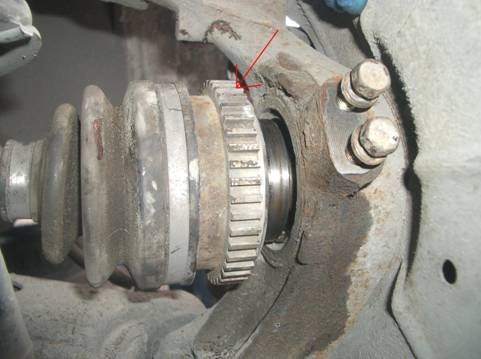 <![endif]>
<![if !vml]>
<![endif]>
11)Unbolt the driveshaft from the diff (you'll have to take the car out of gear to move the shaft round half a turn to get to the other nuts, then put it back in gear so you can turn against the nuts)
<![if !vml]>
<![endif]>
12)Pull the halfshafts out of the hubs, if they're stuck, get a lump hammer and give them a couple of whacks, they WILL come out so be persistant. (ignore the hammer in the pic ;-) )
<![if !vml]>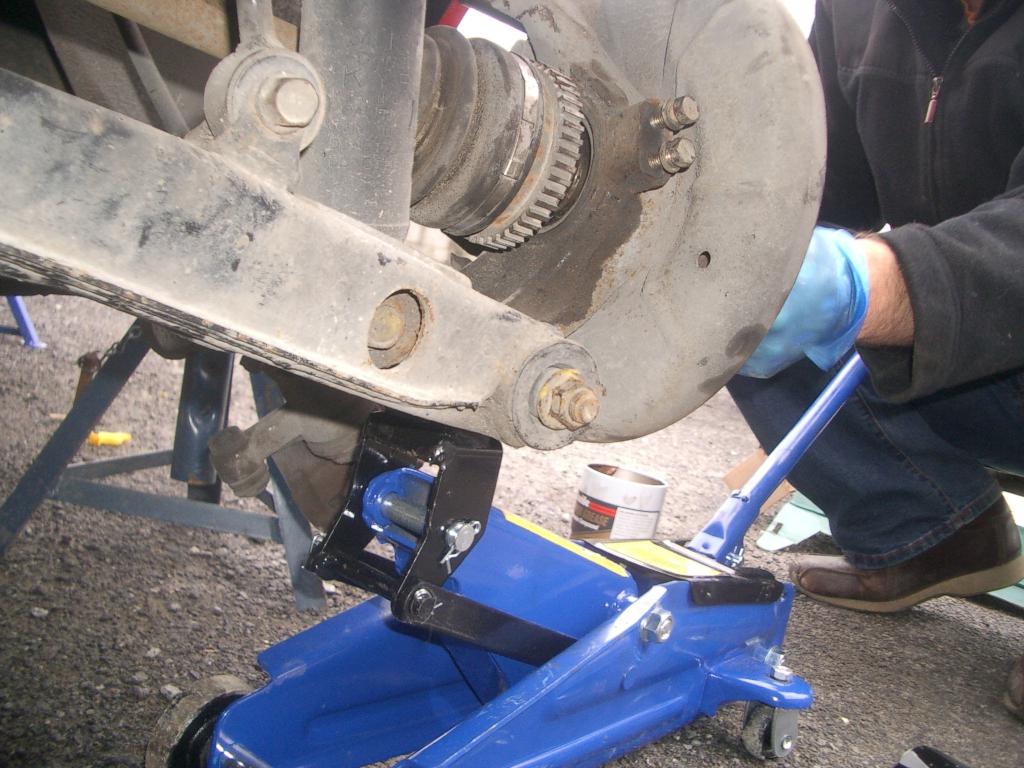 <![endif]>
13)Put a trolley jack under the diff and jack it up so that it's just touching the bottom.
14)Unbolt the 2x17mm bolts that hold the Power Plant Frame to the Diff.
15)One of these bolts had a "collar" on it, in the base of the collar (bit nearest the PPF) there are 2 grooves in which you can insert the tip of a screwdriver to lever it out of the PPF.
Be careful from here on, try not to pull the PPF downwards too much as you don't want to damage the firewall nor the gearbox (where the other end of the PPF is bolted)
<![if !vml]>
<![endif]>
16)Remove the 2x12mm bolts on each side of the diff carrier's arms, then loosen the 2x17mm bolts, be careful not to drop the diff on your head! This is where having someone with you can be handy ;-)
<![if !vml]>
<![endif]>
17)It will be still attached to the PPF by a collar on the upper part of the PPF so with this in mind, try and lever out the bottom of the diff from the PPF and unbolt the 12mm bolts holding the spacer between the diff and the PPF, then carefully remove the diff while lowering the jack, it takes a bit of fiddling to get it out. Again.. the diff is heavy, so keep the jack under it as much as possible.
18) Drain the gearbox oil
19) Drain the old oil from the 1.8lt diff (you'll need a 23mm diff for the fill hole and a 24mm for the drain hole)
<![if !vml]>
<![endif]>
20) Pull/slide the driveshaft out of the gearbox
21) Put in the new driveshaft (it'll just slide into the rear of the gearbox)
22) Now you need to take the stub shafts out of the new diff as they won't be needed with the one piece halfshafts you should have received. This is easily accomplished by using a couple of levers to pry them out of the diff.
<![if !vml]>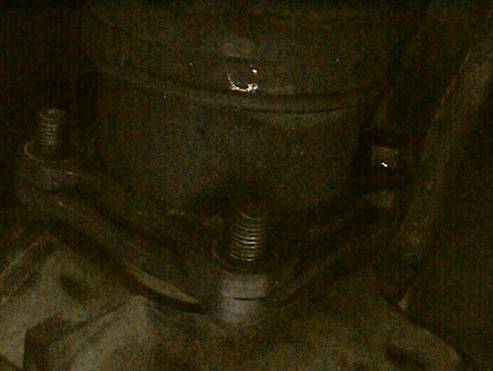 <![endif]>
<![if !vml]>
<![endif]>
23) Renew the oil seals in the space from where the stub shafts were removed. (below is a view thru the diff)
<![if !vml]>
<![endif]>
24) Put the new diff on a trolley jack and roll it in under the car. Jack it up and tilt it back so that it slots back into the PPF (again, this can be fiddly, trick is to try and get the top in first, then the bottom while lining up the carrier arms 17mm bolts) Be careful not to let it fall off the jack!
<![if !vml]>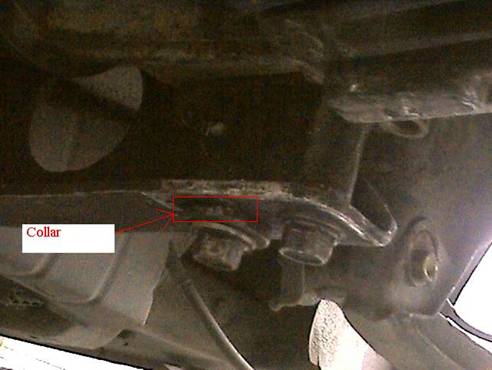 <![endif]>
25) Screw on the 17mm bolts to hold the diff in place, then replace the 2x12mm bolts. And tighten.
26) Replace the 2 long 17mm bolts not forgetting to replace the collar that was levered out earlier.
27) Bolt on the driveshaft to the diff (you can reuse your 1.6lt bolts + nuts here) using the same method of taking the car out of gear and moving the driveshaft as you did earlier.
28) Unbolt the upright from the control arm so that you can pull it back from the car
<![if !vml]>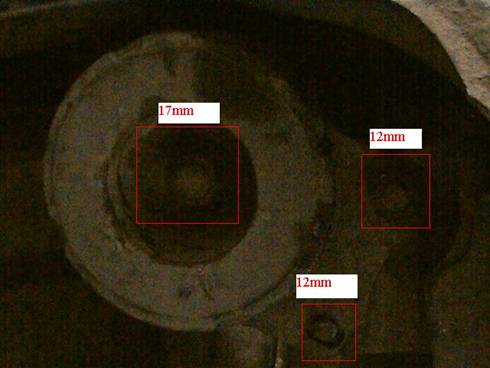 <![endif]>
<![if !vml]>
<![endif]>
29) Fit your new c-clips to the diff ends of your halfshafts being sure to line the "open" bit of the clip so that it's facing upward before inserting into the diff. Tap it fully in using a rubber mallet on the end of the halfshaft. Try pulling it back out to ensure it is seated properly.
30) Pull back the upright and insert the (now copper greased) splined end into the hub.
31) Bolt the upright back onto the control arm (you may need to jack it up a bit to get the bolt holes lined up again)
<![if !vml]>
<![endif]>
32) Replace the ABS sensor and brake calipers (don't forget the copper grease on that sliding pin!).
33) Bolt the rear suspension brace back on.
34) Refill the gearbox oil and differential oil (upper most bolt is the fill hole!)
<![if !vml]>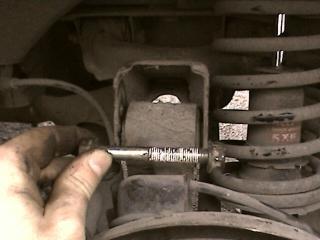 <![endif]>
35) Admire your work ;-)
<![if !vml]>
<![endif]>
36) Fit new exhaust gasket if required (mine was a slip-fit) and replace backbox.
Job done!
Disclaimer
This product is meant for educational purposes only. Any resemblance to real persons, living or dead is purely coincidental. Void where prohibited. Some assembly required. List each check separately by bank number. Batteries not included. Contents may settle during shipment. Use only as directed. No other warranty expressed or implied. Do not use while operating a motor vehicle or heavy equipment. Postage will be paid by addressee. Subject to approval. This is not an offer to sell securities. Apply only to affected area. May be too intense for some viewers. Do not stamp. Use other side for additional listings. For recreational use only. Do not disturb. All models over 18 years of age. If condition persists, consult your physician. No user-serviceable parts inside. Freshest if eaten before date on carton. Subject to change without notice. Times approximate. Simulated picture. No postage necessary if mailed in the United States. Breaking seal constitutes acceptance of agreement. For off-road use only. As seen on TV. One size fits all. Many suitcases look alike. Contains a substantial amount of non-tobacco ingredients. Colors may, in time, fade. We have sent the forms which seem to be right for you. Slippery when wet. For office use only. Not affiliated with the American Red Cross. Drop in any mailbox. Edited for television. Keep cool; process promptly. Post office will not deliver without postage. List was current at time of printing. Return to sender, no forwarding order on file, unable to forward. Not responsible for direct, indirect, incidental or consequential damages resulting from any defect, error or failure to perform. At participating locations only. Not the Beatles. Penalty for private use. See label for sequence. Substantial penalty for early withdrawal. Do not write below this line. Falling rock. Lost ticket pays maximum rate. Your cancelled check is your receipt. Add toner. Place stamp here. Avoid contact with skin. Sanitized for your protection. Be sure each item is properly endorsed. Sign here without admitting guilt. Slightly higher west of the Mississippi. Employees and their families are not eligible. Beware of dog. Contestants have been briefed on some questions before the show. Limited time offer, call now to insure prompt delivery. You must be present to win. No passes accepted for this engagement. No purchase necessary. Processed at location stamped in code at top of carton. Shading within a garment may occur. Use only in well-ventilated area. Keep away from fire or flame. Replace with same type. Approved for veterans. Booths for two or more. Check here if tax deductible. Some equipment shown is optional. Price does not include taxes. No Canadian coins. Not recommended for children. Prerecorded for this time zone. Reproduction strictly prohibited. No solicitors. No alcohol, dogs, or horses. No anchovies unless otherwise specified. Restaurant package, not for resale. List at least two alternate dates. First pull up, then pull down. Call toll free before digging. Driver does not carry cash. Some of the trademarks mentioned in this product appear for identification purposes only. Record additional transactions on back of previous stub. Decision of judges is final. Only open to residents of Eire.