HOW TO .... Refurbish your alloys
1. Remove the old flaking/chipped paint as much a possible with craft knife/Stanley blade.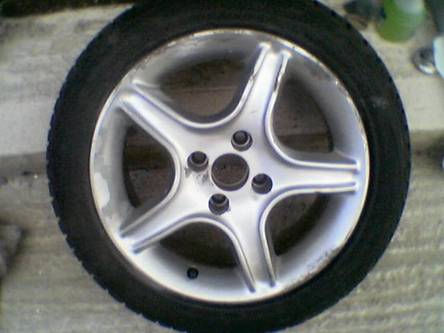 2. Start with heavy sand paper (I had a variety going from 200 to 1000 grit) and take the edges off.
These had flaked pretty badly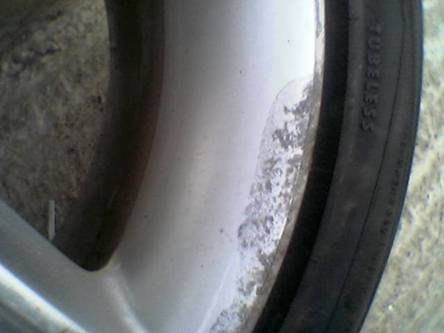 3. When you get it smooth( ish ) like above, your arm is killing you and you have ¾ of the wheel to go (plus the other 3 wheels) , pop down to Atlantic Homecare to pick up one of these for 8 euro
4. Then put it on one of these.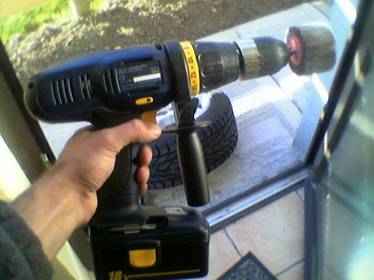 5. Then get one of these......
6. .....and put it into one of these :
7. When you've finished sanding, clean (and clean AGAIN AND AGAIN) to remove and dirt/grit/grease/residues of any other sort… ( cough ). Mask off the tyre (not an easy job as tape won't stick to the tyre), to do this I found it easiest to get an "old" pizza box and tear the cardboard into 3 inch strips. Slot these down between the wheel and the tyre all the way round. Put loads of tape around the outside of the cardboard so that you can then tape newspaper to it and cover the tyre. Then give it its first coat of primer. I gave it 3 coats (just to be sure ;- ) ) . When dry key the primed area with more abrasive paper.
8. Apply 3 to 4 coats of the paint, allowing an hour or so between coats for the previous coat to dry.
See below for finished result.
Below is the 3rd set I've done, tried a chrome finish this time (as opposed to the 5 wheel silver above).
Clean + Sand
Mask + Prime
After
After
After
After